It's been roughly five weeks since the coronavirus pandemic forced everyone inside, cancelled a bunch of happenings and turned our habits and everyday activities inside out. 
As events get cancelled and consumers reduce their spending (in part because they're stuck at home, in part because they're in "battery saving" mode, in part because the threat of layoffs is super real), advertisers have slammed the breaks on most of their campaigns. They're being forced to re-evaluate their strategies, change their messages and their tones and in some cases – terminate the campaigns altogether. 
But Coronavirus is no Thanos – people haven't exactly vanished, they've just shifted their attention elsewhere. So, with a little creativity and a few solid tools, advertisers can learn exactly how US consumers adapted to the "new normal", which tools and apps they now consider essential to manage their everyday activities, and where they can be approached or targeted.
With that in mind, to discover what changed, we need look no further than the charts for mobile apps on Android and iOS. We'll be using Mobbo as it measures user activity for more than 7.5 million mobile apps, providing valuable insights about the shifts among mobile users.
Laying the foundations – the pre-corona charts
In order to best understand how coronavirus altered the US' mobile app store charts, we first need to know what the charts looked like before mandatory quarantine was ordered on pretty much everyone. Let's start with the top 10 apps in the US for Android for the period of January 1 – February 29.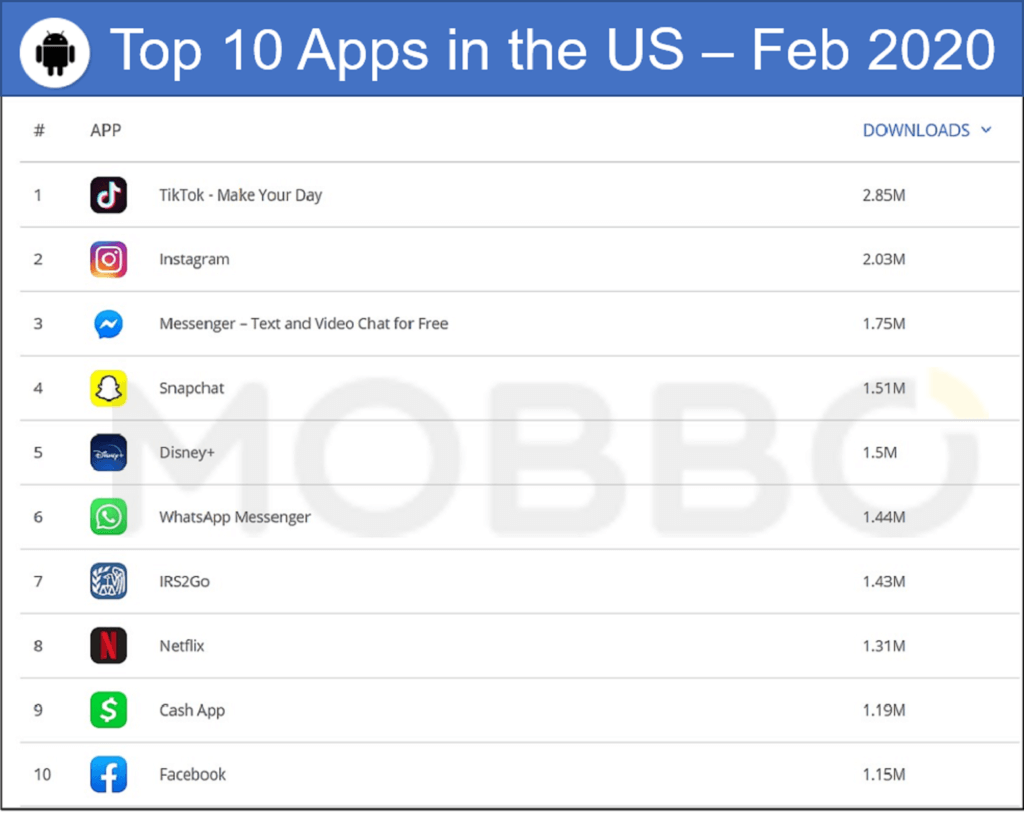 Even though it's widely considered that the short video sharing app TikTok benefited from the lock down, it's easy to see that it was a powerhouse in the US long before. With 2.8 million downloads for the period, it was a clear winner, followed by the second-placed Instagram – with 2.03 million downloads. Truth be told, most of its competitors, including Instagram, have been around for much longer so we shouldn't be expecting an older app to grow as fast as a new one. Still, to put things into perspective, Disney+, Facebook Messenger, Snapchat, WhatsApp and Netflix all fit between Instagram (#2) and Facebook (#10.
Of the top ten apps, five are from the entertainment category (TikTok, Instagram, Disney+, Snapchat and Netflix), three are social media and messaging apps (Messenger, WhatsApp and Facebook), and the remaining two are a payment app (Cash App) and IRSGo.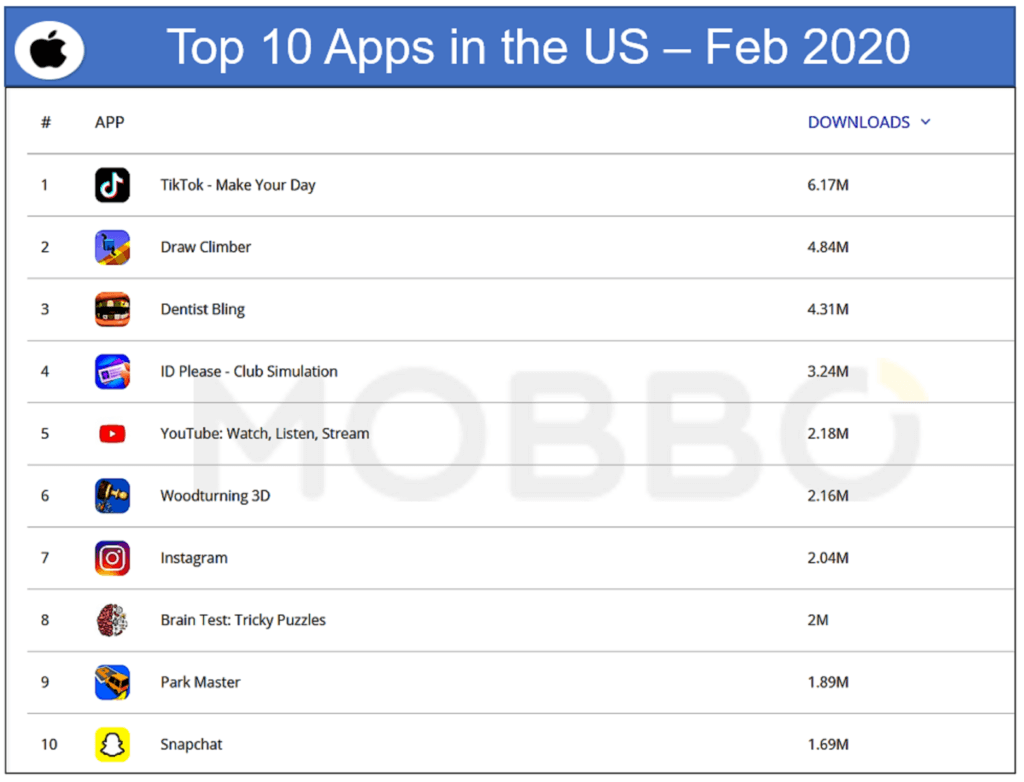 Looking at the number one spot on the iOS chart, one might think the ecosystem is not that different from Android. TikTok dominated the Apple landscape as well, with more than 6 million downloads.
However, iOS seems to be a lot less balanced as games and entertainment dominated the top 10 space: Woodturning 3D, Draw Climber, Dentist Bling, Park Master and ID Please – Club Simulation are all games that made it to the very top. Rounding off the top ten are Snapchat, Instagram, YouTube and TikTok. As you may have noticed – no collaboration, communication or media apps. 
Enter COVID-19
We've compared the charts with those starting early March, all the way until mid-April. On both Android and iOS, TikTok remained the leader supreme, but permutations further below show not only where everyone's attention shifted, but also the difference in the overall mindset between Android and iOS users.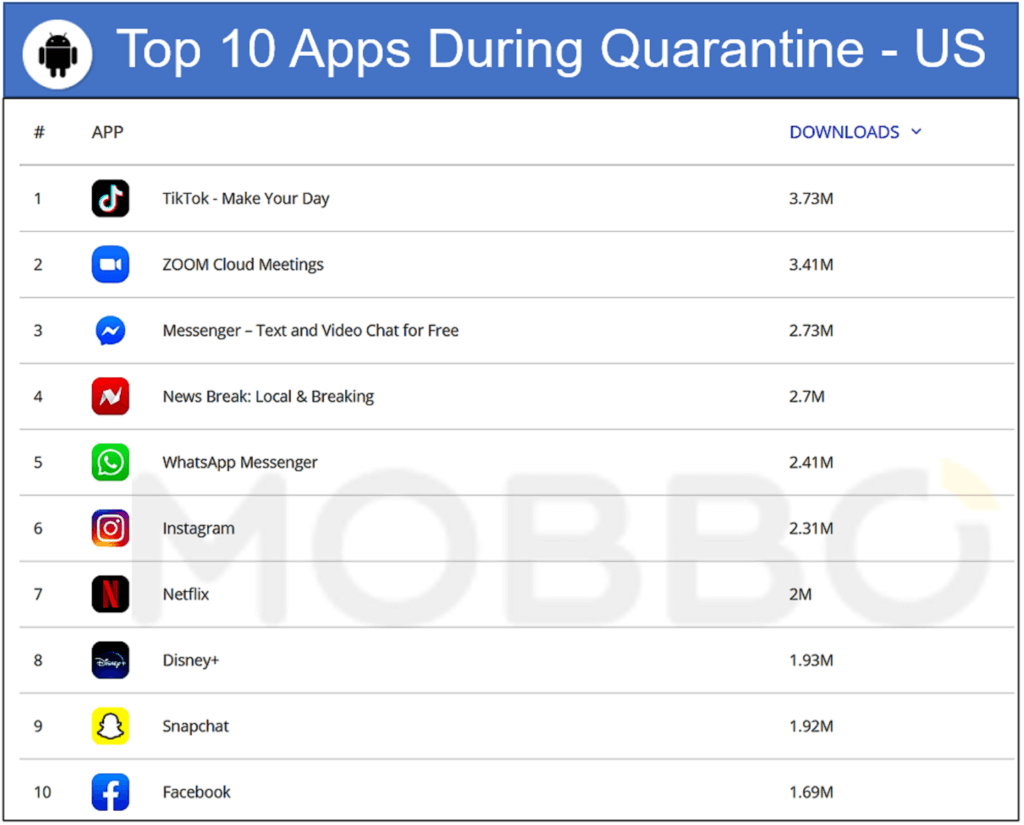 The first and biggest change has probably already caught your attention – Zoom took the number two spot on Android. In our previous post, we have discussed how the quarantine forced everyone (especially newfound home workers) to start using video chat and conferencing tools, but this chart definitely puts things into perspective. Zoom Cloud Meetings has had 3.41 million downloads in just shy of five weeks, pushing Snapchat, Disney+ and even Instagram further down. 
That being said, seeing Instagram on #6, Netflix on #7, Snapchat on #9 (down from #4) and Disney+ on #8 speaks volumes of the change in priorities among Android users. Entertainment was replaced by communication, collaboration and information apps as News Break joined Zoom and Messenger at the very top.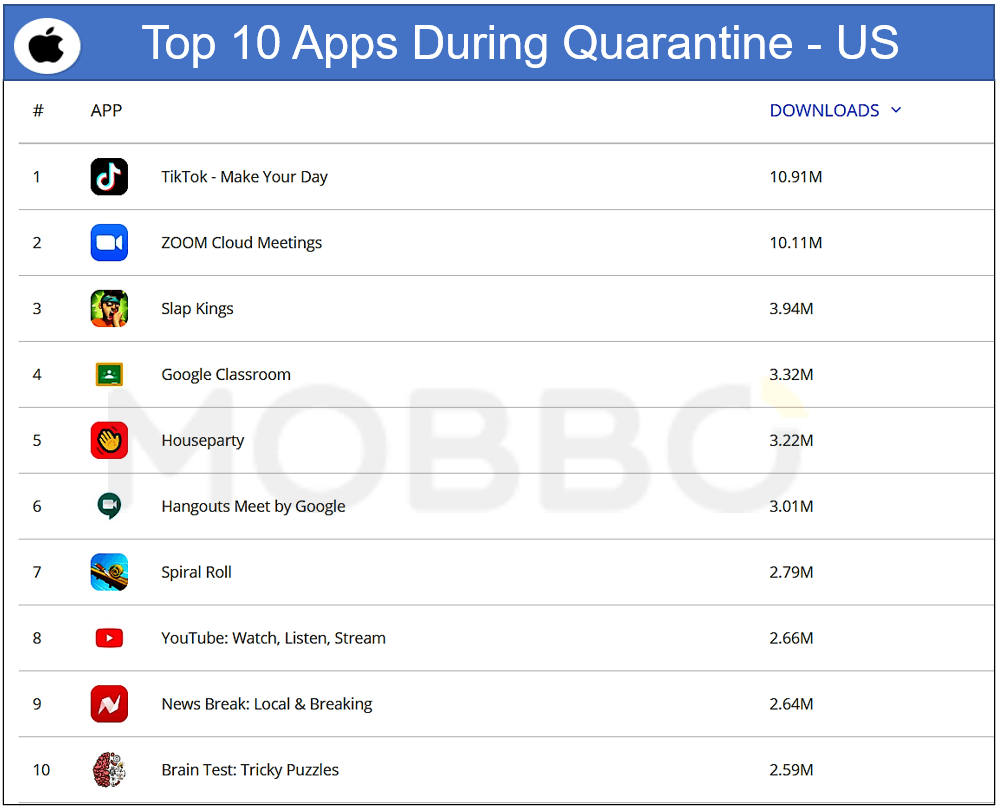 The way iOS top 10 chart changed after lock down leads us to believe either that Apple is a lot more popular among the younger audience, or that Android is simply the preferred operating system for work and the workplace. The communications tool Zoom made an even more impressive result on iOS, being downloaded a spectacular 10.11 million times. on the #5 spot we see the unicorn of Covid19's quarantine – Houseparty, followed by Hangouts, another communications tool, also broke into the top 10 list, finishing sixth with 3 million downloads.  Another worthy mention is Google Classroom, an app Google developed for schools and teachers. 
The rest of the list is populated by games and similar entertainment apps – TikTok, Slap Kings, Spiral Roll, Brain Test: Tricky Puzzles and YouTube. The media app News Break: Local and Breaking at #9, which was nowhere to be seen on iOS before coronavirus, goes to show that everyone, regardless of their preferred platform, was looking to be informed and learn as much as possible about the state of the world.
Below the big 10
The trend that shaped the bottom for Android's top ten – streaming and entertainment apps – spilled into the next ten on the list, with Tubi, YouTube Music, Hulu and Spotify all making an appearance. Google Classroom app also surfaced, together with other apps we expected higher up the list – food delivery and money management apps (DoorDash and Cash App).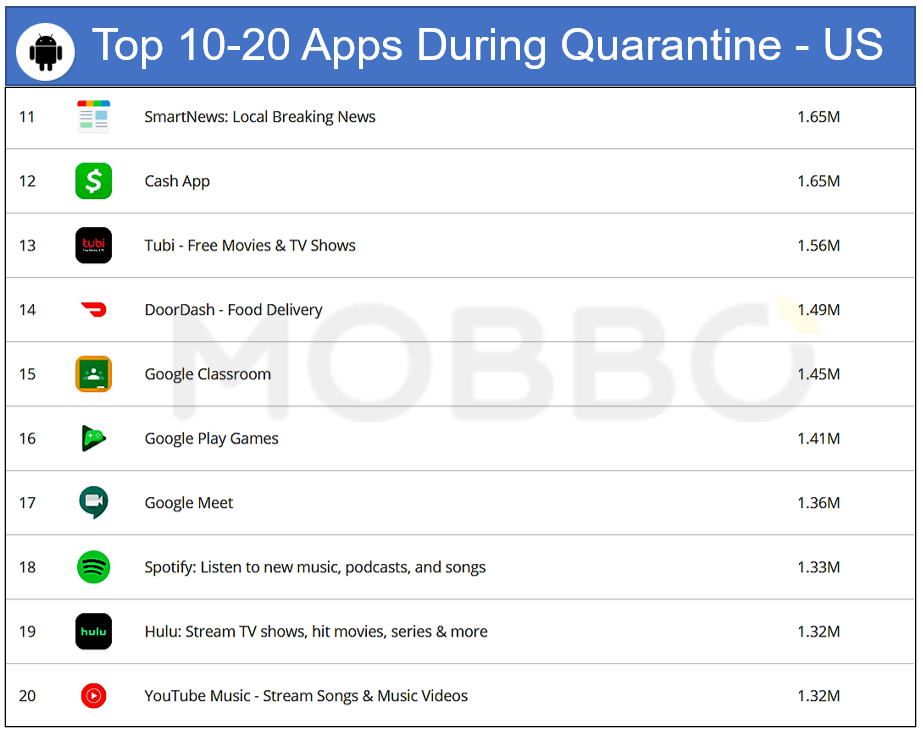 In the App Store, 11-20 entries shows Instagram and Snapchat – the leading titles who was on the top 10 only a month ago: Instagram – from #7 to #12 and Snapchat from #10 to #18.
Communication / social media apps seem to dominate here with five out of ten apps pushing games even further down.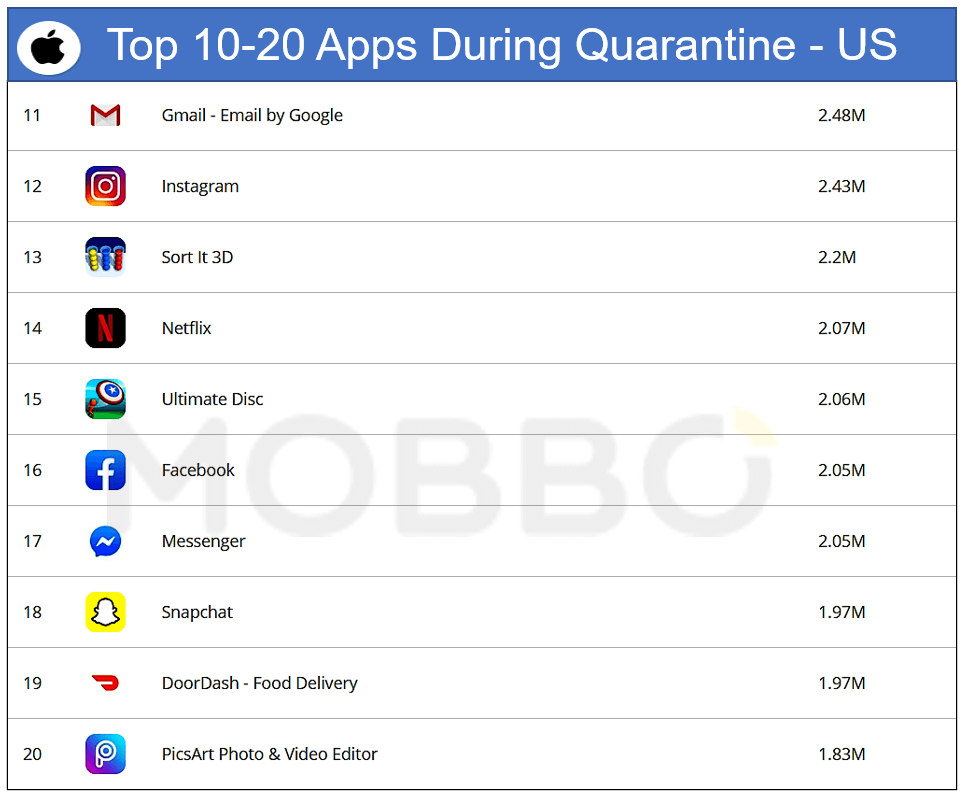 Only at the very bottom of the top 25 list for Android do we start seeing shopping apps, highlighting exactly how big of a challenge these businesses are facing. Wish and Amazon Shopping held spots #24 and #25 respectively with just above a million downloads, each. They haven't made it to the top 25 on iOS.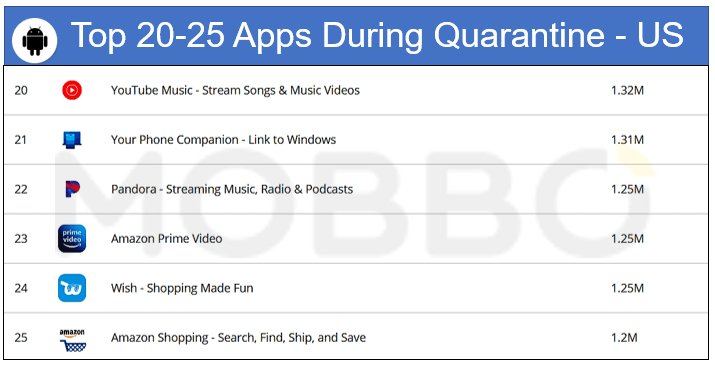 The rest of the list held more streaming apps (Pandora, Amazon Prime) and YouTube Music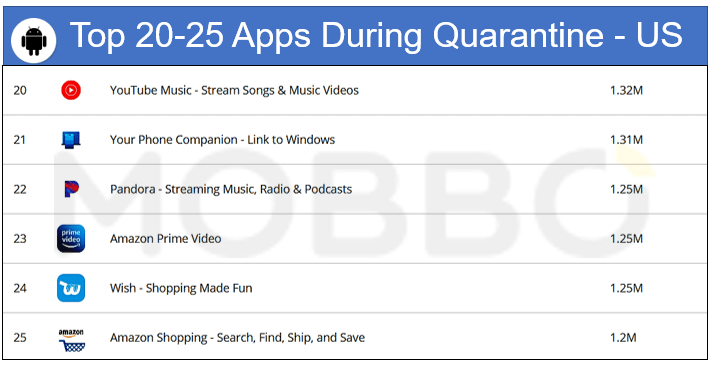 On IOS Microsoft Teams and Google Duo pushed down a bit as the quarantine continues, so is the Cash App which is doing better on Android this past month.
Zooming in
All things considered, we believe it's safe to say that communication and collaboration tools (first and foremost Zoom) were the ones benefiting most from the pandemic in the States, at the expense of streaming platforms (Android) and games (iOS). But that begs the question – how much momentum can these apps gain before running out of steam as things return to the way they used to be?
Only time will tell. What we can investigate, however, is the stamina this app showed so far on both platforms.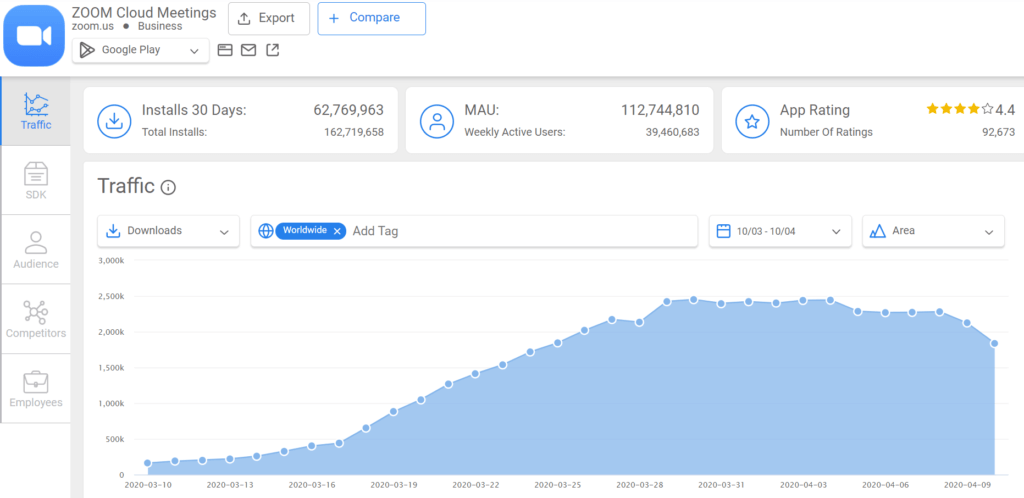 On Android, in the final two weeks of March, the number of Zoom downloads grew five times, from 500k to 2,5 million daily. As we moved into April, the momentum was indeed lost, but downloads did not fall as quickly – they plateaued, suggesting that we may need to wait a bit longer before downloads start dropping (either because everyone downloads it or everyone gets back to work).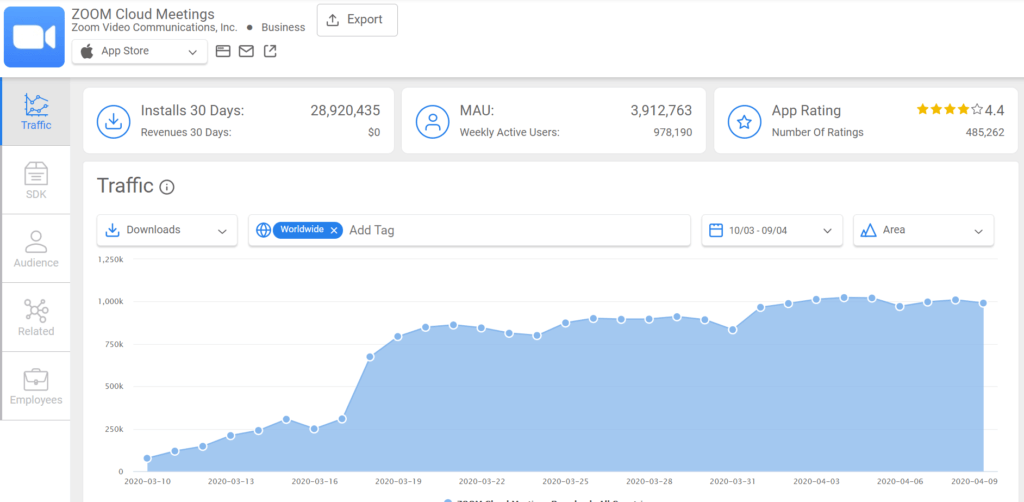 iOS, the platform that significantly outperformed Android in terms of Zoom downloads (10.11 million on iOS to 2.78 million on Android) doesn't even show signs of stopping, with Zoom slightly growing in numbers as we move further into April
The speed of change
Five weeks is an extremely short time to have such significant changes on the charts for both Android and iOS, especially in a market the size of the United States. It only goes to show to what extent the mandatory quarantine affected consumers. 
The charts that were dominated by streaming and other entertainment apps have suddenly become populated by communications and collaboration tools as well as news apps. Being better connected and better informed took priority over being entertained, even though one might think being locked in the house most of the time would make people look mostly for fun. 
The pandemic has also helped us learn more about the differences between Android and iOS as ecosystems. While Android mostly had communication, social media and streaming apps on the list, iOS's list was more populated by games and entertainment apps. 
We'd say that iOS users seem to be more games-oriented. This could be for a whole number of reasons, from built-in solutions on iOS devices, to gaming ads targeting iOS users more, to the effect of splitting apps between iPhones and iPads. We will definitely keep an eye on the chart and follow the trend as it develops.
Conclusion
It seems as if staying in touch with the people they love or work with is most important. That's why today, perhaps more than ever before, it's vital that everyone, advertising and marketing experts included, makes decisions based on real data. 
About the data
All of the information stated in this report stems from Mobbo's proprietary sales intelligence software. Mobbo measures the entire mobile world and monitors the technology stacks of over 10 million apps.
Want to know how your app is doing, and how it fares against the competition? Need more insights on which ads to run for which title? Schedule a demo with us and we'll gladly show you how to stay on point with all the latest happenings in the mobile industry.