Fintech is a huge and sprawling industry, so it's no surprise that there has been massive innovation in financial services in the mobile marketplace in the last few years.
But outside of banking, payment apps have become hugely popular too as an alternative to cash. In a world afflicted by COVID-19 and increased adherence to hygiene, this could be a crucial factor in their ongoing success.
In this article, we look at some of the most popular payment apps from around the world and see how they are becoming a fixture in modern life. To illustrate the analysis, we're using graphs and statistics taken directly from the Mobbo platform. Mobbo offers powerful insights for anybody with an interest in the app marketplace, from developers to publishers, advertisers, SDK vendors and more.
PayPal
PayPay was a real innovator in the mobile payment industry, and they've evolved into something resembling a bank more than a simple payment app. But will this trend towards traditional banking services harm their innovation? Many customers use PayPal for shopping, but far fewer use it for sending money to friends.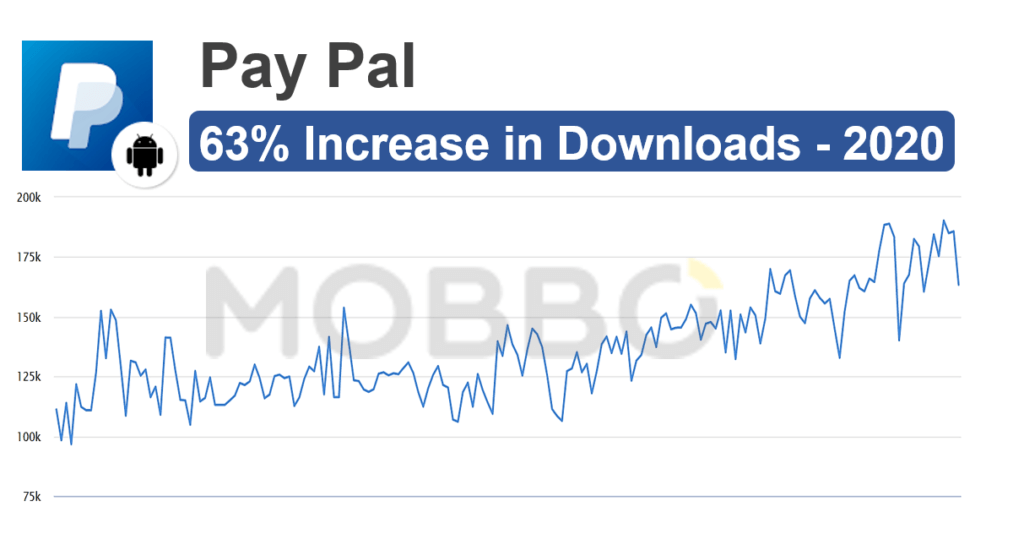 This chart not only shows the huge popularity of PayPal, with over 137 million downloads on Google Play, but also how COVID-19 boosted usage. Daily downloads have gone from around 125,000 per day in early March to almost 200,000 by the end of June, reflecting a wide-scale move to online shopping.
PayPal has obviously caught the  trend of payment apps and expanded its share of the mobile payment industry by acquiring 2 more payment apps: Venmo and Xoom.
Venmo, with an impressive 12M DAU on Android  and IOS helps users quickly transfer money, split bills, and more.
Xoom, is focused on international transfers with over 5 million downloads throughout North America and Europe. Users of PayPal, Venmo, and Xoom are all relatively young, with close to 50% of users being between 18-34 for all three apps.
Other Payment Apps
Many other payment apps have cropped up in recent years, with many supporting contactless payment apps using Near Field Communication (NFC) technology. On Android devices, Samsung Pay and Google Pay are the most widely used apps to facilitate these payments and help users avoid physical cards as well as cash.
Samsung Pay
Samsung Pay is only used with Samsung devices, so their reach is limited. However, as Samsung is the largest smartphone manufacturer in the world, there are plenty of compatible devices, which can be seen by the 150 million+ downloads and 42 million monthly active users (MAU).
AliPay
AliPay by Ali Baba Group offers users a very similar service to PayPal, with some small differences in areas like foreign transaction fees. The main difference is that AliPay's popularity is centered in Asia, and in China and Hong Kong specifically. It's enormous popularity there reflects the fast digital payment trend happening in the rest of the world.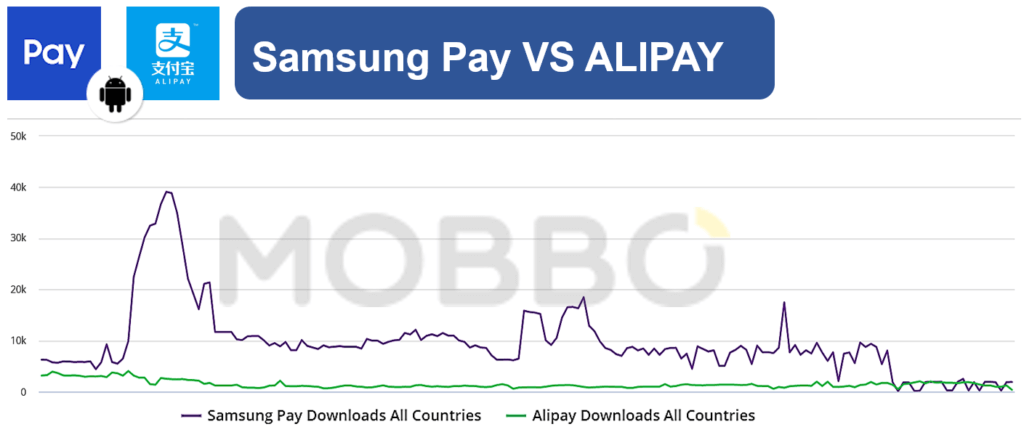 Google Pay
Google is a whole different story, as can be seen by more than 300 million total downloads and 76 million MAUs. Also, Google can exploit its vast suite of apps and services to improve integration of Google Pay with other services, just as they have successfully with other services such as Meet and Gmail during Covid19.
Facebook Pay
Facebook has recently added payment functionality to its platforms via Facebook Pay. Similarly to Google, they are well-positioned to use their suite of software to push the service, As Facebook now holds the biggest share of voice in terms of users, with three of the most successful social media/messaging platforms: Facebook, WhatsApp and Instagram.
It's reasonable to believe that the majority of mobile devices on this planet have one of these apps installed,  yet another sign of the growing trend towards integrated and fast payments between users.
Apple Pay
Not an app per say, Apple Pay allow users to pay within apps, shopping websites and public transport as well as to send money to friends.
Integrated with other Apple products, this feature is meant to keep users from looking for payment solutions elsewhere. Apple is, of course, using their complementary services and integrations to push Apple Pay. The services is only available for Apple devices.

Conclusion
The e-payments market is booming and full of new players and trends. With the biggest companies such as Apple, Samsung, LG, Google, and Facebook in the space, we expect to see major competition and innovations in the near future. With the user base growing, technology improving and lifestyle changes encouraging digital payments – it looks like this is only the beginning.
These moves by mobile giants towards banking services is the tip of the iceberg,
Does traditional banking have a future? Will they offer loans? Funding?
Looking at the long run, companies like Google and Facebook can just buy some banks and replace traditional banking all together. Do we want that as consumers? That the company who displayed ads on our social network and search engine is also the one who manages our funds?
And what about local payment apps? Maybe some more consolidations down the line for this growing category as it is crystal clear that local payment apps will have to reinvent themselves in order to stay relevant.
We will, of course, keep a close eye and update with valuable insights from Mobbo.
Mobbo's powerful insights can help you to understand the app marketplace better, whether you're interested in finance apps, gaming, or any other mobile niche.
Mobbo provides in-depth look and insights to real time data and trend on App, category and SDK level.
Interested in seeing how a mobile intelligence can boost your growth strategy?
Click the big blue button below.