The COVID-19 pandemic has wreaked havoc on the world's travel industry, with borders closing, flights being canceled, countries going into lockdown.
This has resulted in an unprecedented fall in travel, both internationally and within countries, causing problems for companies across the entire travel industry who rely on heavy traffic at this time of year.
But what does this mean for the travel app niche? Have the apps suffered as badly as the airlines and hotels? Have they started to recover as the world gradually begins to reopen? What's next?
In this article, we look at app intelligence data from Mobbo to examine how some major travel apps have been affected by the uncertainty, and whether the signs look good for a recovery.
Booking.com
Booking.com is a huge player in the travel niche, with more than 150 million downloads from Google Play alone. It has been hit hard by the pandemic fallout, as seen from the download activity below.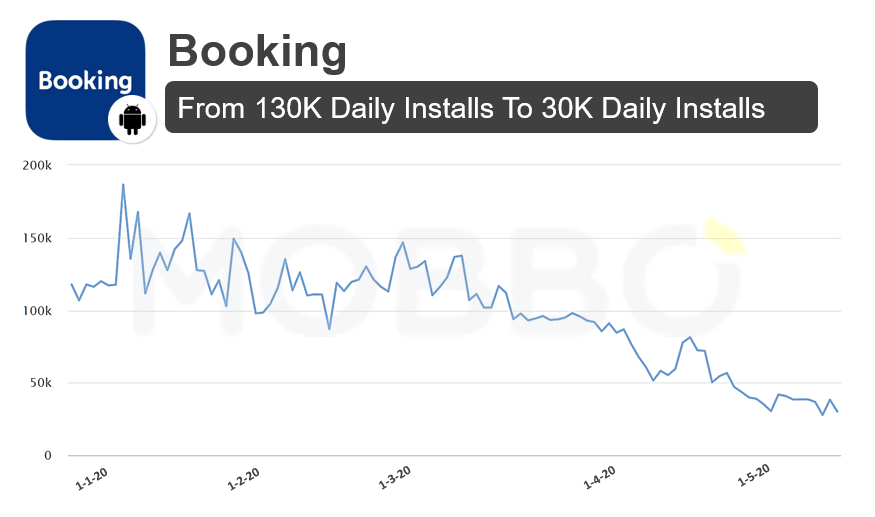 From a high of 100,000 downloads per day in early March, Booking.com experienced a big drop to around 25,000 by April. However, things are starting to change quite rapidly for the firm.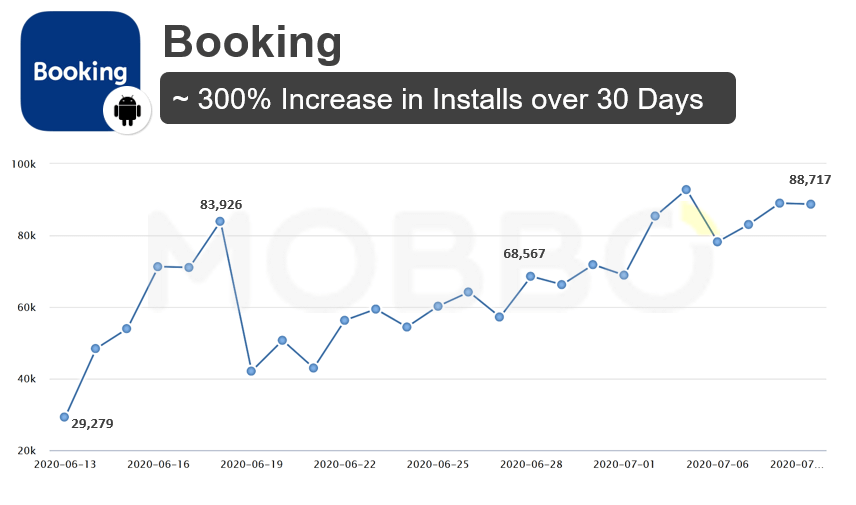 A steady increase in downloads has led Booking.com to around 85,000 per day on Google Play as of July 2. This looks like good news for the company that facilitates tens of millions of bookings worldwide every year.
Airbnb
The company that changed the face of temporary accommodation and continues to disrupt the travel industry is another that's taken a big hit from the Coronavirus pandemic.
Airbnb app installs went down dramatically between early and mid-March. From a high of around 60,000 per day, downloads fell to less than 20,000 in the space of a few days.
The pessimistic forecast led AirBNB to let go of 25% of its employees and to put off the IPO planned for 2020.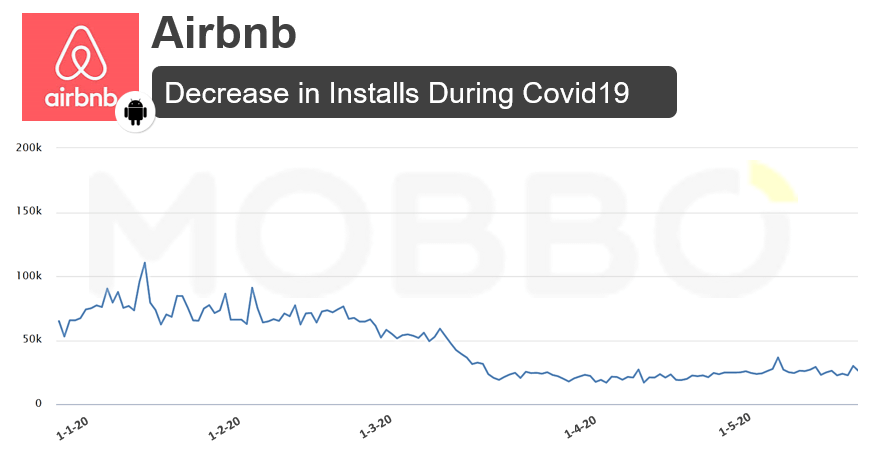 However, as with Booking.com, things are starting to improve. The below chart illustrates the recovery Airbnb has made. Downloads have been increasing steadily, hovering around 50,000 per day for much of June and early July.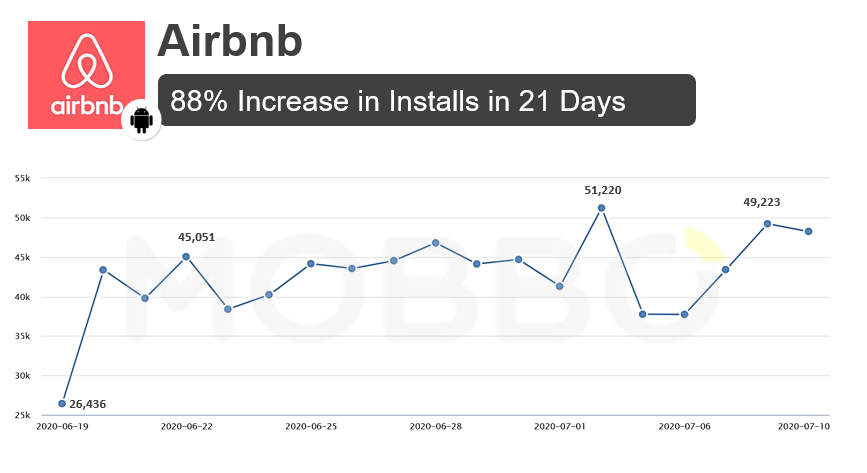 This is almost back to the levels seen in early March, so is a great indication that users are starting to plan trips again in large numbers.
Skyscanner
Another travel giant, and a good indicator of overall interest in flights, is the comparison service, Skyscanner. As would be expected, Skyscanner suffered a dramatic loss in activity between March and April.
The chart above shows daily Google Play downloads going from around 12,000 per day to around 2,000 in the space of roughly two weeks.
As Booking and Airbnb can serve domestic tourism, Skyscanner is mostly about flights. Although some countries announced that they will have agreements with specific countries about opening up air bridges, international flights are far from getting back to normal.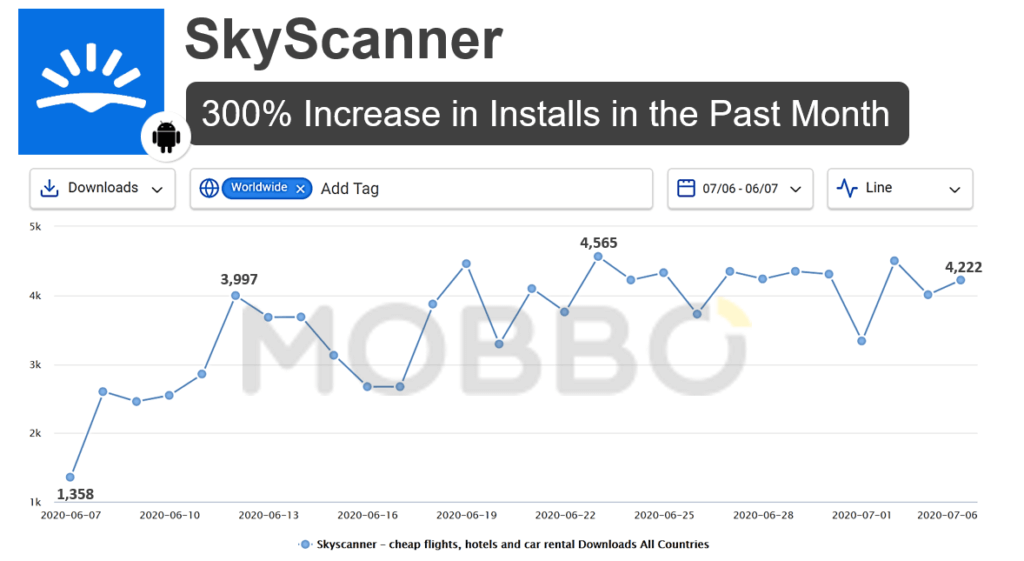 More recently, however, things are looking up. This chart, covering the 30 days up to July 6, demonstrates the sizable increase in activity. Downloads have been over 4,000 per day from Google Play for a significant portion of the month, which is roughly a two-fold increase from the lows seen in April.
Tripadvisor
Tripadvisor is the most widely-used app on the list, with close to 250 million total downloads from Google Play and almost 150 million monthly active users. This popularity makes it a strong indicator of overall travel industry health.
With quarantine kicking in, daily downloads from Google Play dropped significantly between February and June, from more than 10,000 per day to around 4-5,000 throughout June.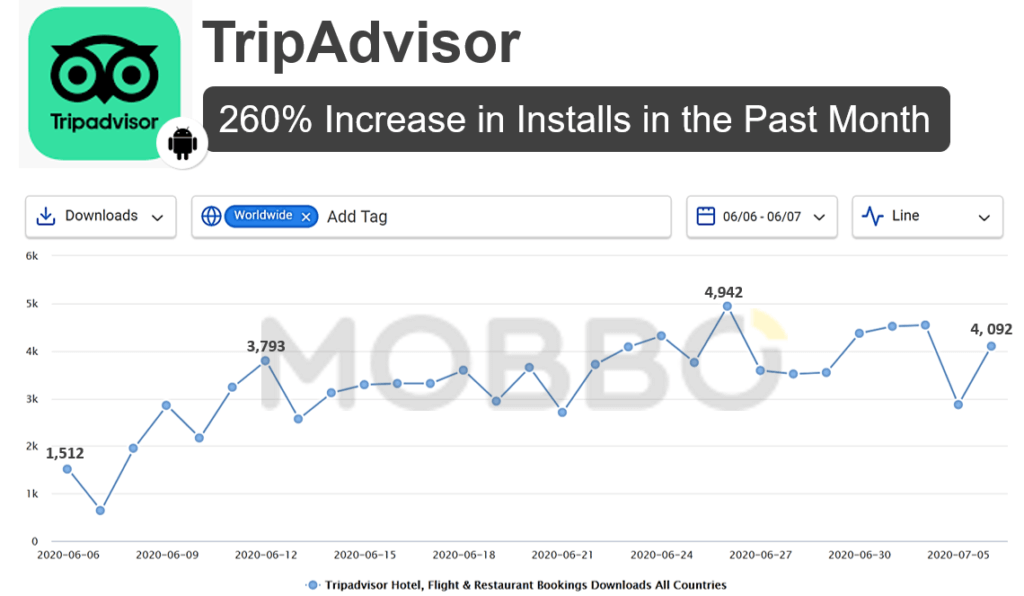 Tripadvisor doesn't seem to be recovering as the other examples are beginning to. However, this may not be too much of a cause for concern as it can be explained by the fact that Tripadvisor is used by people who are already on vacation in many cases, while the other apps are used more in the planning phase. For this reason, we expect Tripadvisor's recovery to be more delayed, only really kicking in when people actually start to move around more.
Conclusion
These are undoubtedly tough times for the travel industry, and travel-related mobile apps have certainly been hit hard.
However, from the promising signs of recovery detailed above, it seems as though consumers are starting to plan their upcoming travel plans in greater numbers, albeit tentatively for now.
While this is clearly not an easy time for travel apps, and some may not survive, we're hopeful that the signs point to a gradual recovery. Companies may have to adapt to a difficult year, but the appetite for travel is still clearly there and ready to be harnessed.
Mobbo provides app intelligence to advertisers, developers, publishers, and anybody with an interest in the mobile app economy.
Book a free demo to see how Mobbo can help you scale your business