Tensions between India and China have risen dramatically since 20 or more Indian soldiers were killed by Chinese troops in the disputed Ladakh border region. The deaths are the latest development in a long-standing dispute over the region, and it seems neither side is willing to back down anytime soon.
Interestingly, the political and military tensions have now spilled over into the business world, with the Indian government moving to ban dozens of mobile apps owned by Chinese companies. In today's mobile-oriented world, this will have economic ramifications for China, with the Indian market of over 1 billion people suddenly cut off completely.
Many of China's most widely-used apps are included in the ban, such as the incredibly popular Tik-Tok, CamScanner, UC Browser, and many more.
This dispute is the most significant example of the app industry being used as leverage in political disputes, and it demonstrates just how influential mobile apps have become in recent years. India has hundreds of millions of smartphone users, so it is not unreasonable to assume that eliminating them from the user pool could be enough to sink entire companies in China.
The power of the mobile economy over companies, and vice versa, is already well-documented, and there have been several high profile examples of these interactions recently. For example, several large companies including Unilever are now boycotting advertising on Facebook due to perceived inaction over extremist content. In response to these announcements, Facebook's share price fell around 8%, and could feasibly result in the company changing its content policies.
In the political realm, President Trump's recent musings about finding an alternative to Twitter, a primarily mobile-focused platform, have coincided with a spike in downloads of Parler, a rival social network.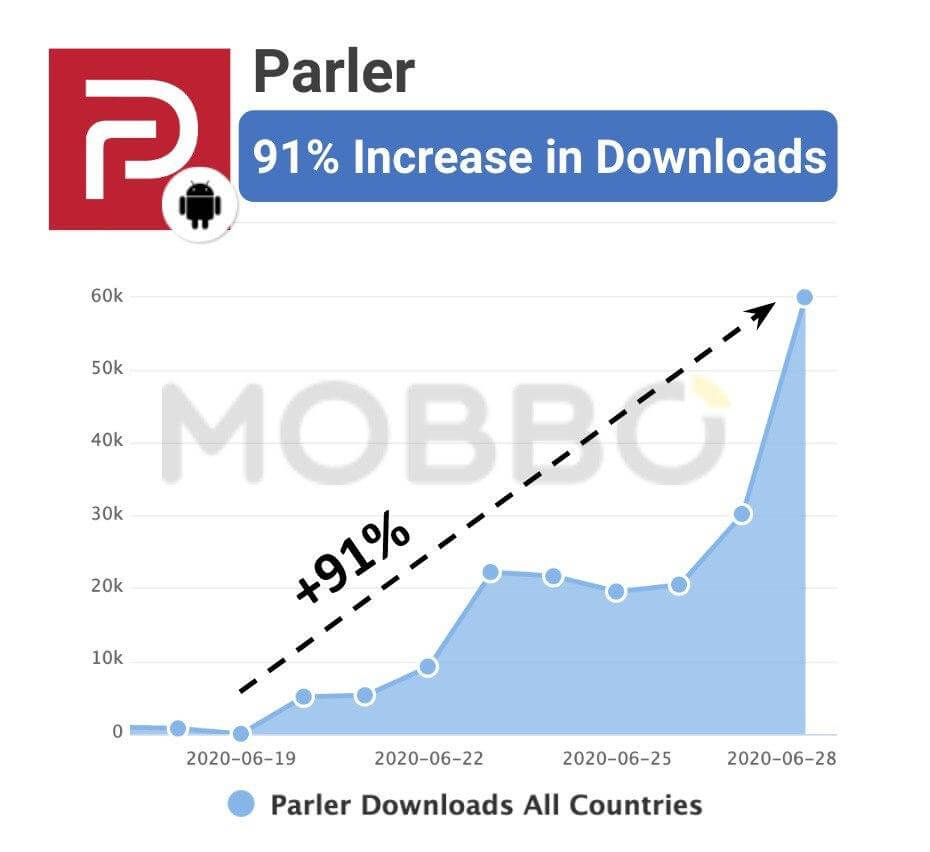 With these kinds of interactions becoming a regular occurrence, it seems that the Indian ban is likely to have quite drastic and wide-reaching effects.
In this article, we look at the impact of India's new laws on the Chinese app market by looking at some high-profile examples using data from Mobbo.
TikTok
Tik-Tok is one of the great success stories in the Chinese app industry and has experienced some of the fastest growth ever seen for an app. Reaching over 2 billion downloads in 2020 after only coming to prominence in 2016, it is now one of India's most-used apps.
The video-based social media app has garnered some controversy regarding privacy concerns and has also received negative attention from India over an influencer dispute. The spat, involving a TikToker, led to Indian users organizing to damage the app's rating. They succeeded in lowering it to 1 star on Google Play and, although this has since been reversed, it is evidence of India's staggering power over the app market.
However, the biggest blow to Tik-Tok has certainly come from the ban by the Indian government.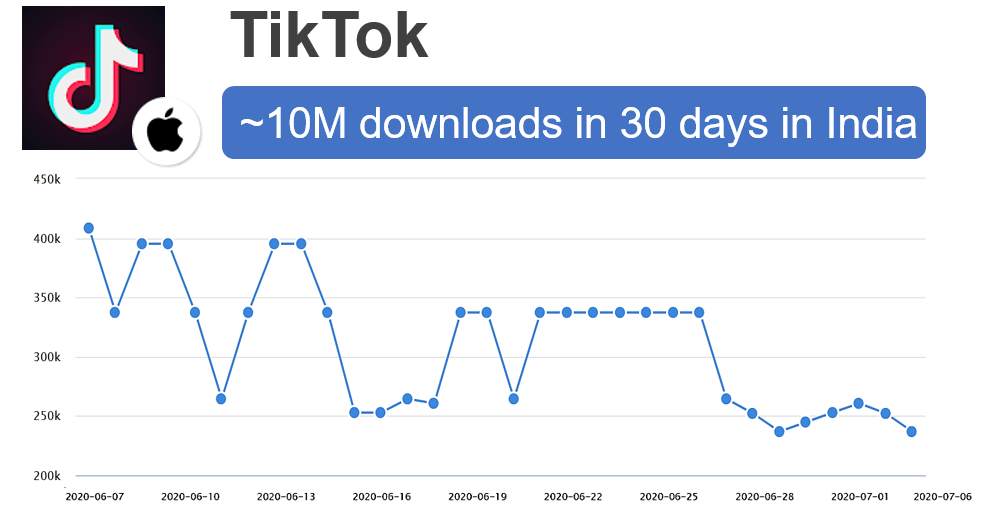 The data above, taken from Mobbo, shows just how significant the Indian marketplace is for Tik-Tok. In just the last 30 days, approximately 10 million downloads have come from India alone across Android and IOS. The number of monthly active users is almost 45 million, and it is the sixth most downloaded app in the country.
If a simple influencer dispute was able to decimate Tik-Tok's app rating, then the might of the Indian regulators will surely be enough to do some real damage to the social media giant. While the app has a large user base throughout the entire world that may help to absorb some of the impact, the ban will be a serious concern for the company.
CamScanner
Another massively popular Chinese-owned app that has been banned by the Indian government is CamScanner.CamScanner is the most successful scanner app, offering solutions for home offices – passing the need for expensive scanning equipment.
CamScanner is important to mention for two main reasons. Firstly, it is hugely popular throughout the world, with over 200 million downloads on Google Play, and in India specifically, where it has had around 7 million downloads in 2020 alone. Secondly, it shows that there will be multi-industry effects from the ban. While Tik-Tok is a social media app, CamScanner is used primarily for work and admin-related tasks. It seems no sector of the Chinese app industry is going to be shielded from the effects of the ban.
UC Browser
UC Browser is another major app covered by the ban. One of the most popular browsers in Asia, it has just under 700 million downloads on Google Play outside of China, and 28M downloads this year in India alone.
As one of, if not the most used browser in India, the ban by the government will force at least tens of millions of individuals to adopt alternative browsers. This will probably provide a large increase in downloads for competitors such as Google Chrome, Opera, and others.
It is yet to be seen how the ban will affect UC Browser employees in Indian offices, but it is perfectly possible that there will be office closures and redundancies as part of the collateral damage.
Shein
The Chinese online clothing app, Shein, is also included in the wide scale ban. This could result in a big shake up of the Indian apparel market, as Shein is one of the most popular clothing apps in the world, with over 130 million global downloads from Google Play alone, and more than 2.5 million coming just from India in the last 30 days.
The loss of this lucrative market will surely damage Shein and benefit shopping app competitors in the Indian marketplace.
Conclusion
This is certainly a strange and, in some ways, exciting time for the mobile app industry. The ban by the Indian government is wide-reaching, indiscriminate, and unprecedented. India's influence over the marketplace is enormous, so we expect to see some big shake-ups in the entire app industry in the coming weeks. Besides the three prominent examples mentioned above, dozens of other apps have been included, many of which have tens of millions of Indian users.
While the ban is only days old at this point and the full effects won't be seen for some time, it's clear that Chinese developers will currently be in panic-mode.How will the companies survive this? Will they adapt to a world where they can't rely on Indian users? Are the world-beating giants like Tik-Tok now too big to fail? We'll find out the answers to these questions and more in the coming weeks and months.
For now, it seems likely that the competitors of the affected apps will see a rapid boost in users from India. This shift could present a good opportunity for developers looking to carve out some market share, as well as advertisers looking for apps to gain a foothold in the Indian market. However, only time will tell how serious the effects will be, and whether the ban will last long enough to have a big impact. We are also likely to see some kind of retaliation from China, but it's impossible to say what form this will take.
Mobbo's app intelligence provides developers, publishers, journalists, advertisers, and anybody with an interest in apps with powerful insights into the mobile marketplace. To access unbeatable and in-depth analyses, sign up to one of Mobbo's flexible subscription plans.